About the ladies of Housewives of True Crime Podcast
Hey there, true crime enthusiasts and fellow besties in crime-solving!
We're Gretchen and Tabitha, and we've been BFFs for a whopping 25 years. Our friendship? It's as raw and real as it gets. On our podcast, we don't mince words or tiptoe around the stuff that really matters. Nope, we dive right into the deep end, saying what you're thinking, no holds barred. We're the voice you've been waiting for, and it's no wonder folks often tell us they feel like we're their besties too.
But here's the kicker – we're not just your regular true crime storytellers. We've been through the wringer ourselves, and we're not afraid to share. So, get comfy, grab your favorite snack (or bottle of wine), and join us as we journey through the wild world of true crime while dishing out the latest in our own lives. Welcome to the Housewives of True Crime podcast – where it's like girls night out on your sofa, and we can't wait to spill the tea with you disco biscuits! 🕵️‍♀️👯‍♀️
- Gretch & Tab

Gretchen Macaulay is a true crime enthusiast since she started reading acclaimed author Anne Rule's true crime stories and stayed up watching Unsolved Mysteries in junior high. As the years went on and while studying anthropology in college she still managed to squeeze in every episode of dateline and forensic files into her busy life. With all those hours of crime TV she thinks of herself as a true detective, although technically she mostly worked in hospitality aboard boats along side her husband of the past 11 years. Today Gretchen lives in Orange County California where she is raising three young children. Like so many other moms out there that find themselves drowning in sesame street and diapers, when she has moments to herself she escapes into mind stimulating true crime series.

Tabitha's love of true crime happened when a real media worthy true crime took place in her hometown Ventura, California. Tabitha found herself waiting in line for a seat in the courtroom of the Sherri Dally murder trial while friends her age found themselves at the beach. After graduating college with a Communications degree, Tabitha's inquisitive personality and the gift to gab served her well in sales positions but now her natural talents are perfectly suited for her true crime podcast. Housewives of True Crime is just that, it begins with a little chit chat about the daily drama of raising three kids with her husband Sean in Los angels and dissecting whatever true crime has recently peaked her interest.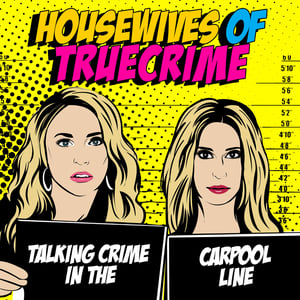 Subscribe to Housewives of True Crime Podcast
New episodes, shorts and blog posts weekly.